Student Leadership Taster Programmes 2022-2023
Secondary School Students
The Taster Programmes aim at cultivating and exploring students' leadership potential and interest via different tasks. After completion, students would be empowered and eligible for other advanced leadership programmes.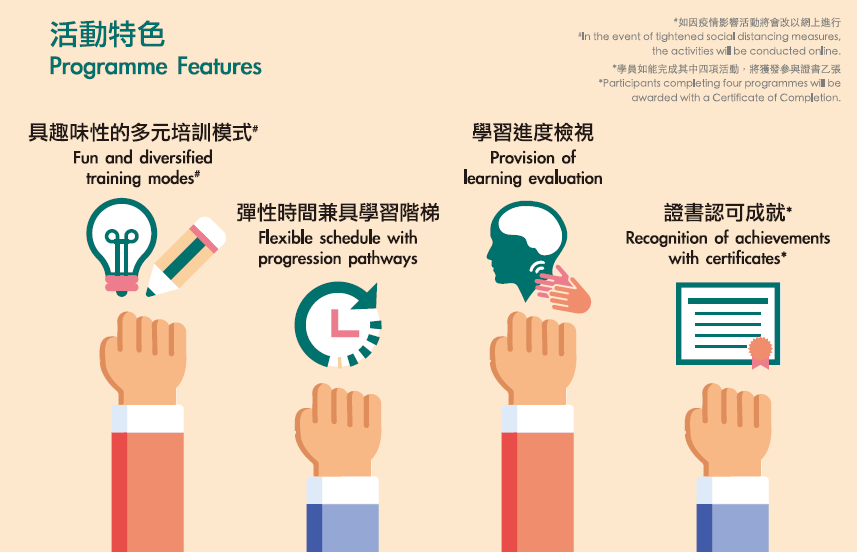 Programme Features
Flexible Scheduling with Progression Pathways

Diversity and Full of Fun

With learning reports

Be awarded with a Certificate of Participation*

*Participants completing four programmes will be awarded with a Certificate of Completion.
Programmes
Objectives:
To develop participants' confidence and interest in public speaking
Contents:
Learning how to write a speech and mastering essential public speaking skills
Objectives:
To learn the basic theories of communication

To understand the key concepts of communication skills and rules
Contents:
Exploring individual communication mode

Practising different communication skills and avoiding communication blindspots
Objectives:
To learn key theories and steps of creative problem-solving

To help participants understand their capacity in problem-solving
Contents:
Participating in Court Decode Team Challenges, where groups can work towards accomplishing an escape from detention cells and decrypting the passwords in Old Court
Objectives:
To understand concepts and key points of successful teamwork

To learn about collaboration and problem-solving in different circumstances
Contents:
Joining newly designed challenges team building, problem-solving and communication

Acquiring analysis reports and 360 Peer Evaluation report in the assessment session with the use of "Multi-factor Leadership Questionaire"
Objectives:
To enhance participants' communication skills, improve verbal expressions in teams and hence develop clarification skills
Contents:
Partaking in brand-new team challenges in four stages, namely, observing, constructing, delivering and composing, in order to achieve a boost in team morale and to build bounds among members
Objectives:
To have basic understanding of the operation of the Hong Kong Judiciary System

To grasp the basic principles under the concept of Rule of Law
Contents:
Introducing the daily operation of a court and the Hong Kong Judicial System through a thematic guided tour

Illustrating important concepts of the Rule of Law through group activities
Objectives:
To sharpen participants' knowledge and leadership skills in event planning

To nurture participants' ability in leading groups and implementing large-scale events
Contents:
Conducting case studies to enhance participant's practical skills on challenges in the process of group debriefing and discussions

Leading group activities in Self-Lab with instant performance feedback
Objectives:
To enhance participants' interview skills, paving the way for further studies and career development
Contents:
Getting tips on how to prepare for interviews, such as research skills and mental rehearsal

Refining your answering skills on how to effectively present your experience and qualification through storytelling

Joining the CV review session and learn how to write an impactful resume
Objectives:
To master a strategic teamwork concept

To understand personal competence in mental skills and physical abilities
Contents:
Joining team work strategic thinking challenge and personal aptitude test

Measuring one's different abilities with technology gadgets and generating assessment result of team performance
Objectives:
Learning different concepts and equip global knowledge of Sustainable Development Goals (SDGs)
Contents:
Learning different concepts and applications in Sustainable Development Goals (SDGs)

Reflecting personal values and the sustainable living style through group discussions and activities
Student and Teacher Feedback